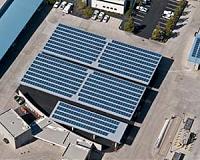 California Green Designs has completed the largest commercial solar installation in Los Angeles at Konoike-Pacific (KPAC), a cold-storage warehouse in Wilmington.
The installation, located on more than 140,000 square feet of KPAC's warehouse rooftop, uses more than 7,500 Mitsubishi 185-watt solar panels. The entire system size is 1.49 megawatts and is expected to produce enough power to cover 75 percent of KPAC's electricity costs. Energy savings have averaged between $40,000 and $42,000 a month since the system power-up in March.
"KPAC's solar electric system will have recovered its installation costs by early 2012," says Sevan Varteressian, California Green Designs President.
"The system greatly reduces KPAC's operating costs and the savings will grow as utility rates climb. For large facilities such as KPAC that have low temperature requirements, solar energy has tremendous cost saving advantages."
The project benefited from government and utility incentives including a new 30 percent federal grant program that runs through 2011, a one-year accelerated bonus depreciation offer and a rebate from the Los Angeles Department of Water and Power.
"The LADWP rebate should be the largest to date for a commercial installation," notes Varteressian.
California Green Designs, based in Tarzana, has been designing and installing commercial and residential solar electric systems since 1985. It has installed hundreds of systems throughout Southern California.
---